"This year marks Sport 4 Life's 15th anniversary, and we received an update on the R15E UP Challenge which we've launched to mark the occasion and help with fundraising efforts while encouraging people to get active!"
By Hitesh Patel, Chair of Trustees
Q1 Board Meeting
We held our Q1 Board meeting last month which was the first time that trustees had convened in-person since last February. It was great to see everyone after so long, including Sarah Irving who (along with Lorna Khemraz) is one of our voluntary Board Secretaries from Pinsent Masons.
I was delighted that we had a full turnout and, given new ways of working we've all had to adapt to in the advent of COVID-19, a couple of our trustees (Pam and Mundeep) joined us virtually. As there were so many of us, we were grateful to our Vice Chair, Max, for hosting us at Aston University's award-winning Students' Union building.
The meeting date also coincided with Show Racism the Red Card's annual 'Wear Red Day' and so we were all clad in varying shades of red to show our solidarity with such an important cause.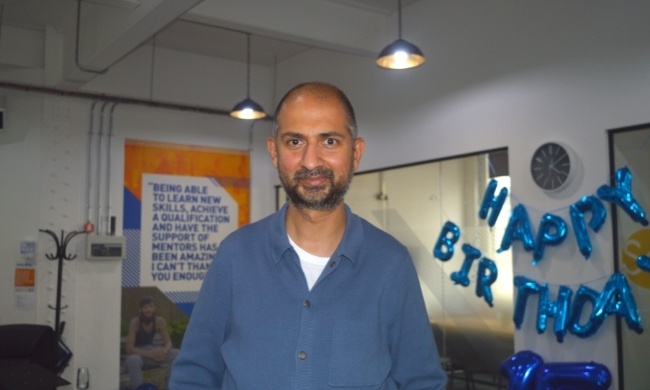 Discussion, anniversaries, updates
As ever, Tom and his leadership team had prepared a good set of papers for discussion and to update us on a range of activities since our last full Board meeting back in August. Having a good understanding of charity finance is a key requisite for anyone acting as a trustee and, thanks to some options from our Business Support Manager, Emma, we agreed to undertake some collective refresher training early next year.
Staying with finance, we also discussed our existing Reserves Policy. We congratulated Saad on his 10-year anniversary working for Sport 4 Life UK, and it was pleasing to hear of his progression while he has been with us. It was great to hear of new staff who have joined us recently, and also to learn that we'll be providing opportunities to several youngsters as part of the Government's Kickstart Scheme. Coming from West Bromwich, I was delighted to hear that we'll be extending our presence in Sandwell through partnering with West Midlands Violence Reduction Unit's 'Step Together' project and SCVO's Emotional Wellbeing Services.
15th Anniversary
This year marks Sport 4 Life's 15th anniversary, and we received an update on the R15E UP Challenge which we've launched to mark the occasion and help with fundraising efforts while encouraging people to get active. We also recognised that, despite ongoing challenges presented by COVID-19, both locally and for the charity sector, Sport 4 Life UK is continuing to perform well and make a positive impact. Our services are needed more than ever, and in addition to the staff team, I'm grateful to our trustees for giving up their time in support of our mission.
Hitesh Patel