The complete guide on how to search for a job
Searching for a job can be an overwhelming and often daunting experience, but with the right strategies and resources, you can find your dream job faster.
This guide provides useful tips on how to search for a job, getting your CV in front of the right people, networking, and using online search tools effectively. So, let's get started!
First things first, what do you need help with?
What's covered in this guide
Here are the key topics covered in this guide: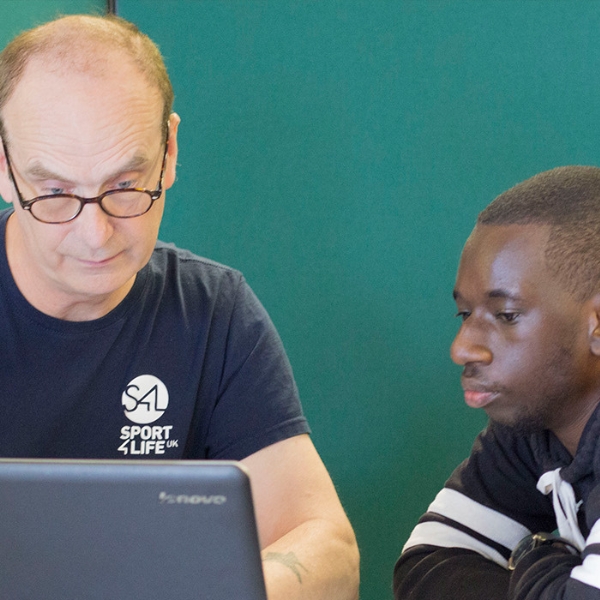 Keep your JOB search MOMENTUM
Need help searching for the right job?
Don't let job search fatigue get the best of you. It's important to keep going and stay positive.
We host various employability workshops and one-to-one mentoring to help young people improve their chances of finding a job.
Job search basics: find your dream job
How to search for a job
When we say searching for a job, you may have visions of endlessly scrolling down recruitment websites or walking around a town centre handing out copies of your CV. Today, there are countless ways of searching for a job.
Have you heard of the job candidate who delivered doughnuts and his CV? You don't have to use stunt tactics to find a job, but the idea of attention-grabbing, not attention-seeking is important if you're struggling to find the right job for you.
It's important to keep changing how you search and apply for jobs. This will help keep you motivated and stand out from the competition.
Plan your job search
When job searching, it is important to have the plan to help keep you motivated. Here are some things to consider:
What's your purpose? You should understand why you're searching for a job; is it money, progression, location or personal fulfilment? Understanding what's motivating you will help you sort through advertised job roles quicker.
What are your goals? Define the type of jobs you are looking for and identify potential employers or recruiters.
What's your timeline? Do you have a time limit on when you need/want to find a new job? If so, set mini (realistic) goals to help you achieve this. This could include agreeing with yourself to have contacted at least five companies each week.
Breaking down the research process into small, manageable tasks can help make the process feel less overwhelming.
How to stay organised? Find a way to keep track of your job search activities, including the jobs you've applied for and any communications you've had with employers. This will help you stay organised and focused throughout the job search process. This will also prevent you from applying for the same job twice and record how many jobs you have applied for.
Are you prepared? Before you begin your search, make sure you have an up-to-date CV and cover letter. If relevant, you should also prepare your portfolio or previous work samples. You should also tidy up your online profiles (more on this below). If you need help updating your CV, read our How to write a CV Guide for the latest tips on crafting a top-notch CV that stands out from the competition.
Having a plan will increase your chances of success in achieving your ultimate career goal. In addition, if you're using a recruitment agency, having these answers ready will significantly speed up the process and get you on the market quickly.
Where to search for jobs?
Today, there are plenty of places to search for a job. You are not limited to walking down the high street or staring at a computer screen all day. Take advantage of the variety of options open to you.
Company websites: If you have a company you'd like to work for in mind, why go to their company website and find the 'Jobs' or 'Careers' page? Organisations tend to openly list their vacancies as it can save them recruitment fees.
Online search engines: Job search engines such as Indeed, Glassdoor, and Monster allow you to search for jobs by location, industry, and job title. You can also set up job alerts to receive notifications when new jobs that match your criteria become available.
Recruitment agencies: Recruitment agencies can help match you with job opportunities that align with your skills and career goals.
Social Media: Most companies advertise their open positions. However, you don't just have to find jobs; you can also ask your social network to look for you. Platforms like LinkedIn allow you to identify yourself as 'open to work'.
Friends & family: Don't be afraid to speak to friends and family. Referrals from friends, family or professional contacts can be an excellent way to learn about job opportunities that may not be advertised.
Job seekers events: Attending job fairs, conferences, and networking events can help you connect with people who can help or are looking to employ.
Job Centres: Job centres, such as Jobcentre Plus are government-run organisations that offer various services, including job search assistance, benefits advice, and training opportunities.
Employment charities: While many charities cannot offer job roles, they are dedicated to helping unemployed individuals find work and access support to help them overcome any barriers to employment they may be facing. Learn how Sport 4 Life can help you improve your chances of finding a job.
Using different job search methods will increase your chances of finding job opportunities that match your skills, interests, and career goals.
Use as many different job search methods as you can
Struggling to find your ideal job?
With so many places to search for a job, speaking to someone who knows what they're talking about is sometimes easier.
Join one of our employability workshops and get one-to-one mentoring help. We can help you find your ideal job.
Improve your job search skills and strategies
Top tips for young job seekers
Today's job market can be highly competitive. However, you can do some simple things to increase your chances and help keep yourself motivated while you search.
Prepare your CV: Make sure your CV is ready to go. If you're applying for a variety of different industries, you should tailor your CV to each type. If you need help updating your CV, read our How to write a CV Guide for the latest tips on crafting a top-notch CV that stands out from the competition.
Research yourself: Employers are likely to search for you, too, so it's best to make sure you identify and remove any online content that could harm your professional image.
Check your social media: Review your social media accounts. You should remove inappropriate or unprofessional content and adjust your privacy settings to control who can see your content. This includes checking to ensure people can see your professional content on platforms like Linkedin.
Prepare for interviews: Sometimes, you may have little opportunity to prepare for an interview. Most interviewers will accommodate the short notice during the interview, but being prepared will give you the advantage. Read our How to Prepare for a job Interview for simple tips on better preparing for your interview and boosting your confidence.
Continually improve your CV: Your job search might be lengthy progress. If you are out of work, try not to leave a gap on your CV whenever possible. Showing potential employers you are actively working or improving your skills is an extremely positive hiring characteristic. Look for free training, employability workshops or volunteering opportunities to keep you motivated and networking. Learn how Sport 4 Life can help you improve your chances of finding a job.
By following these tips, you'll stay motivated throughout your job search and prepared for that next interview.
Boost your CV, build confidence and improve your job search
Let us help you get job ready
A good CV can help improve your job search. We can boost your CV with additional training, qualifications and volunteer experience.
Our CV workshops and one-to-one mentoring can help you fill your CV with things employers are looking for. Stand out from others, and get one step closer to your dream job.
Need help with your job search?
As the leading sport for employment charity in the West Midlands, we can help you develop the life skills needed to move into further education, training and employment.
We host various employability workshops and one-to-one mentoring to help young people improve their chances of finding a job.
There are currently no events.
Let us help you get you job ready