Mia's story
Age 18
A story about a fascinating success.
Mia has been through some things that many young people have experienced. Her story serves as a lesson. While at school, her GCSE Levels were Business Studies & Performance Arts which she got with a distinction- her two main career goals. She decided to follow the business route. She then suddenly felt very stuck in her life.
"Should I do Sixth Form? College? Or should I get a job straight away?"
Mia didn't know what career path she wanted to take. After a long time exploring her options and not being sure what to do, she decided to go to MPCT (Military Preparation College of Training). Mia was hoping to get into the army. Unfortunately, she failed the medical test due to back pain.
"I was extremely disappointed. I put my career on the line and it didn't work!"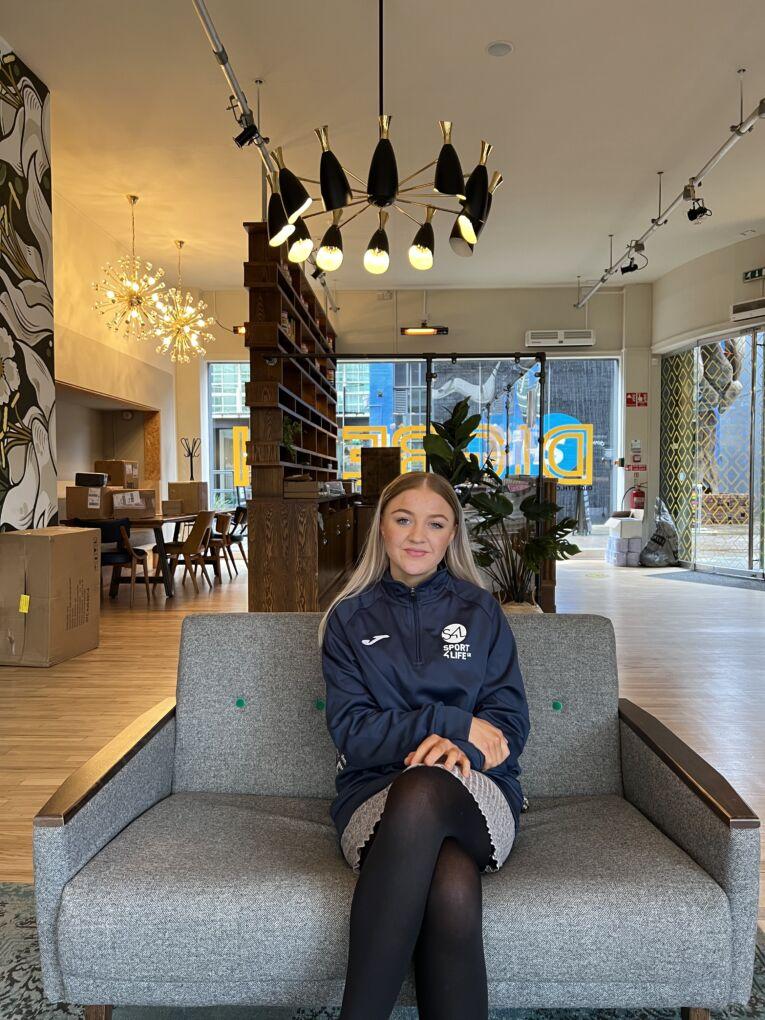 After MPCT, Covit hit. Mia left MPCT 8 months after joining. Lockdowns were the real challenge for Mia. She was in a dark place, struggling with jobs, like so many young people her age. She was applying for numerous jobs, without any success.
"Nobody cared, nobody called. I was up against thousands of people."
"I WENT THROUGH MY SPORT 4 LIFE JOURNEY FOR THE LIFE EXPERIENCE. IF YOU PICTURE A LADDER, YOU WILL HAVE TO TAKE EACH AND EVERY STEP, BECAUSE YOU CAN'T TAKE THAT BIG LEAP- IT JUST WON'T TAKE YOU VERY FAR. THAT'S WHY I TOOK ON ALL THESE EXPERIENCES, CHALLENGES AND COURSES WITH SPORT 4 LIFE TO HELP ME MAKE IT TO MY DREAM CAREER ONE DAY!"
After spending a lot of time applying for jobs, she finally found her very first job as a Business Admin & Customer Service at an estate agency. However, to Mia's surprise, the environment there felt toxic and Mia didn't feel comfortable there. She quit. She found herself being in and out of jobs. "It felt like such an exhausting and tiring experience because I'd spend a week here and there and I ended up losing hope in the process".
One day, in March 2021, Mia was scrolling through her Instagram feed and she came across a Sport 4 Life advert. "I thought this was a sign". – Mia shared. She was stuck in a job she didn't like, she needed change. She wanted to find a better job. Mia entered her details for a sports leaders course, and our Qualifications Coordinator contacted her. They spoke about her wants and dreams and Joe offered her some employability support. This was when her mentor to be- Don, got in touch. Her life-changing experience began there.
After some long conversation about where Mia sees herself in the future and what type of support she really needs, Don put her on a Level 3 Diet Nutritional course, and then a Marketing Diploma, Level 4 & 5. Every Friday her mentor would check on her and Mia shares that his support was huge with all the courses.
One thing that Mia is very passionate about is the gym, keeping fit and being active. This sparked her enthusiasm to go down the sports route. "If I can make a difference to myself through the power of sports, I can also help other people make a positive difference in their lives through sports.". Mia then joined our summer HAF as an assistant coach, because she wanted to explore her interest in sports.
"Sport 4 Life brought me out of my shell, it helped me build my confidence, a real eye-opener, because I'm now working with people from all walks of life. When I've been to sport sessions, I've seen young people from different backgrounds and different past and they all helped me experience 'real life' things. That experience built me as a person.".
Mia shares that because of Sport 4 Life she now has more knowledge, various courses to add on her CV, she's been given more opportunities.
Mia is a very unique case for us, because she has experienced Sport 4 Life from three different angles. She started off her journey as a young person on our caseloads. She then moved onto being a sports coach at Sport 4 Life and working directly with other young people. Today, she progressed into being an Administration Assistant with us through the Kickstart Scheme.
"My day to day work is never the same. So much variety in my work. It's not boring in the slightest and I like what I'm doing!". In her Administration Assistant role, Mia provides an effective and efficient first point of contact with all visitors and callers, she undertakes administrative functions in accordance with service policy and procedures. She also arranges meetings, prepares agendas, takes appropriate follow up actions and more.
"I'm a lot more confident about the career path I want to take now. Sport 4 Life shaped the way I put sport & business together within a career path".
Mia dreams about continuing with business but incorporating her passion for sports. The end goal for her is to set up her own business – ideally in the sports industry.