Liza's story
Age 27
Very ambitious, enthusiastic and determined, Liza is the type of person who always wants to achieve something. She's very driven and motivated, and always strives for further developing her skills. She first became aware of Sport 4 Life back in 2020 through our ad on Facebook, regarding the Sports Leaders qualification we offered. She wanted to complete it and therefore, she enrolled straightaway.
Liza was then contacted by one of our mentors- Don, and she joined our services in March 2020.
Liza joined the youth forums that we had weekly and collectively they were making sure that people's mental health was good during lockdown, they were providing support to each other.
"The youth forums were so much fun and very helpful at the same time. Everyone had a chance to have their say"
Liza has been through many things in life that have shaped the person she is today. Back in 2013, she had jaw surgery which resulted in Liza feeling insecure and lacking confidence. She was often in and out of hospitals and this left a mark on her self-image
"I knew that because of what I went through, I wanted to help other people as well"
In 2015, Liza completed her Prince's Trust course which helped her gain a wide variety of different skills, such as team work, employability, how to look for a job and more.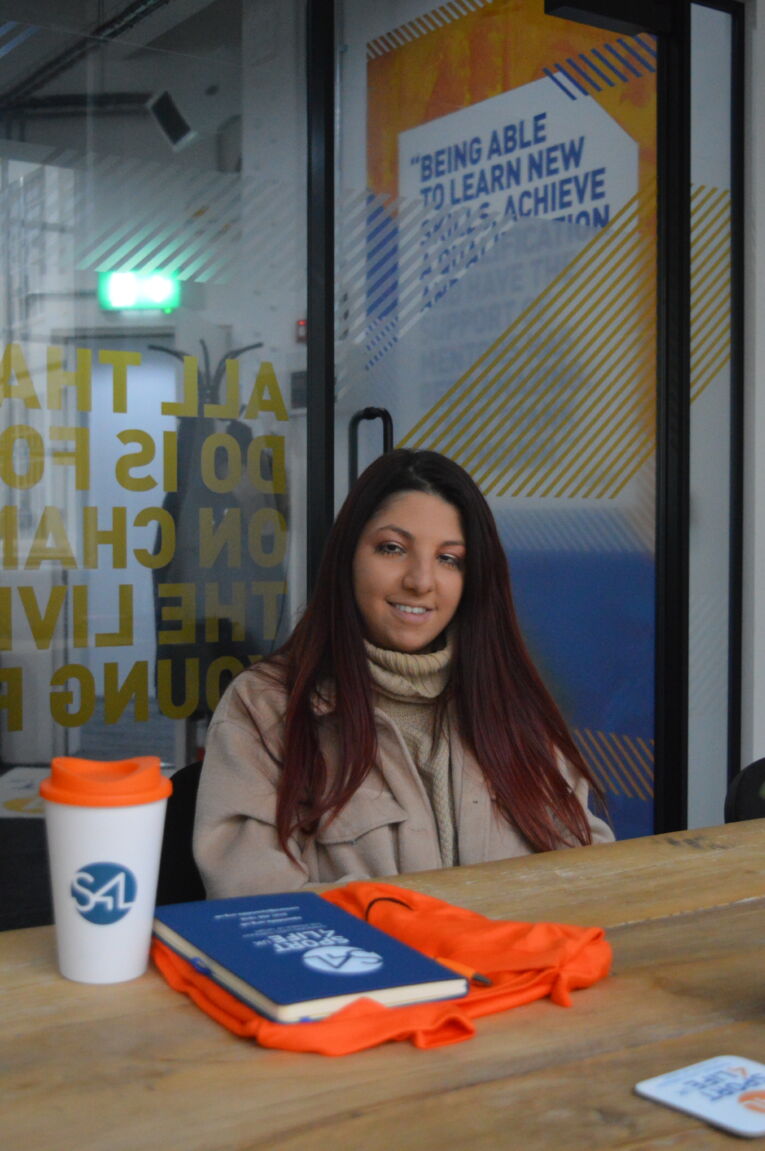 Liza joined us when lockdown started back in March 2020. She knew that she had to upskill herself because of the changing environment. With the support of her mentor- Don, they started looking for different courses she could enrol on.
"IT'S THE POSITIVE 'PEER PRESSURE' AT SPORT 4 LIFE THAT MAKES A DIFFERENCE FOR ME! WHEN YOU SEE OTHER YOUNG PEOPLE DOING SO MANY GREAT THINGS WITH THEIR LIVES AND DEVELOPING THEIR SKILLS, THIS MOTIVATES YOU AS WELL TO GET INVOLVED AND GIVE YOUR BEST"
She completed a Level 2 course in specific Education needs, behavioural challenges, autism (she's now a practitioner for autistic children) and Mental Health course.
"I wanted to see how Sport 4 Life could help me develop new skills and I was particularly interested in the sports activities. I wanted to get involved with more sports-themed things and how I could progress within the sports industry, and Sport 4 Life supported me in that" – Liza shares
As a result of Liza attending our Employability Workshop and engaging with the programme, she learned how to layout her CV, how to make it sound and look more professional, which resulted in her improving her employability chances.
Liza shares that her Sport 4 Life mentor and the rest of the team helped her get a direction of where she wanted to go.
"My mentor gave me guidance, he sent me many job links and helped me prepare for the application process and gave me advice about pursuing the Teaching Assistant position I've been working towards!"
Today, Liza works as a Teacher Assistant at Myton School, she's more motivated than ever to pursue her dreams and continue growing both as an individual and professional. Liza shares she's more confident, happier and generally more determined to seize every opportunity coming her way.
"Thank you everyone for supporting me during my journey! The support I received from everyone at Sport 4 Life is something that means the world to me and I'm so grateful for this opportunity!"