Jacqueline's story
Age 22
Jacqueline is a brilliant example of true dedication and enthusiasm which has led to real progress. A single mom, who gave birth to her son – Aziah, at the age of 16, due to still being at school and at a critical time in her education this had an effect on her GCSE's and the results that followed. Jacqueline was in desperate need of motivation and guidance. She joined Sport 4 Life in 2018 through her work coach at the time who said to Jacqueline that she would benefit a lot from speaking to us and getting involved with our programme of support.
Coming out of school, Jacqueline didn't have great grades, then she lacked motivation to go to college and found herself being in and out of education. This was when she joined Sport 4 Life and met her mentor- Hannah. They started doing weekly one-to-ones, her mentor found what Jacqueline's hobbies and goals were and they were working together on what was needed to be achieved in order to get there.
"Hannah was so helpful and very flexible with my hours due to me having a child. I can tell I made a good friend, as well as a mentor. If you've got a mentor who believes in you, you also start believing in yourself"
Because of the situation she was in, she didn't get a chance to go to university, but she shares that this is the plan right now. Her plan is to get a couple of years of experience first, and then go to University to do a Nursing degree, followed by a Master's in Mental Health.
Jacqueline was engaging a lot with our programme and seized many opportunities. She attended some of our Employability Workshops, where she met other young people whom she eventually became friends with.
"To know someone took the same journey as me felt nice and encouraging"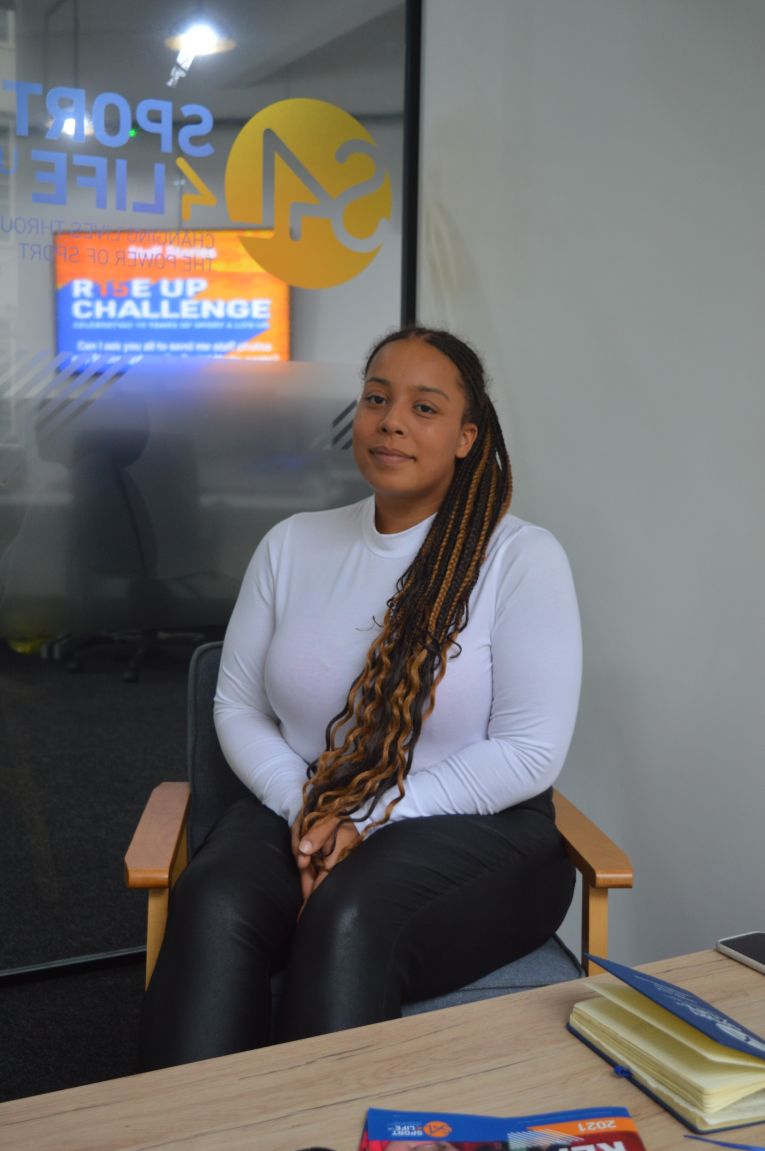 "What I enjoy most about Sport 4 Life is the interaction. Interaction with my mentor, with staff, with other young people!"
As a result of her engagement, dedication and motivation to become a better version of herself, Jacqueline now works as a Mental Health Support Worker at Aspects Care. Jacqueline is a very altruistic, empathetic and a caring person and this job is the perfect match for her to work within a supportive and thriving environment, where she could utilise her skills.
"Sport 4 Life has helped me pursue my dreams- in addition to the interview preparation, they gave me some funding to get interview clothes"
"MY EXPERIENCE AT SPORT 4 LIFE HAS PUT ME ON THE RIGHT PATH- WHEN I FIRST MET MY MENTOR, HANNAH, I WAS QUITE DOWN AND WITH A LOW SELF-ESTEEM. I DIDN'T SEE MUCH HOPE FOR MY FUTURE. I COULDN'T SEE MYSELF EVEN TAKING THIS JOURNEY…AND SEEING MYSELF HERE, TODAY, MONTHS LATER, TO BE IN THE POSITION I AM RIGHT NOW, MAKES ME FEEL SO PROUD OF MYSELF"
As part of her progress and mentoring support, Jacqueline also did a 10-week programme with Miss Macaroon where she helped to promote their programme, and followed this by participating in the Kickstart programme. Having two jobs and a young child felt slightly challenging for Jacqueline but she never gave up on pursuing her dreams and developing her skill set.
"What I enjoy most about what I do now is being in my own element- I've found my purpose for a job, I go above and beyond to help and support others- I want to make sure that people have better days!" – Jacqueline shares
Fun-loving and full of energy, Jacqueline enjoys long walks, colouring with her son, arts & crafts. In addition she really enjoys working with hair, and is a very talented hair stylist.
As a single mom, not having the best childhood and having been through a difficult upbringing, Jacqueline didn't see much hope for her future.
"It's been very difficult to come out of that dark spot…but I am proud of myself and what I have accomplished now and everything I've done throughout my journey with Sport 4 Life is paying off now"
"I feel like I've been 'reproduced'. I feel like I've absorbed all the goodness and now I am ready to blossom!"
Jacqueline dreams of a happy life and in 5 years time she sees herself graduating from University, and giving back to charity, because she's so thankful of the support she's received. She dreams about giving back positivity, sharing her story and motivating other people who find themselves in a similar situation.